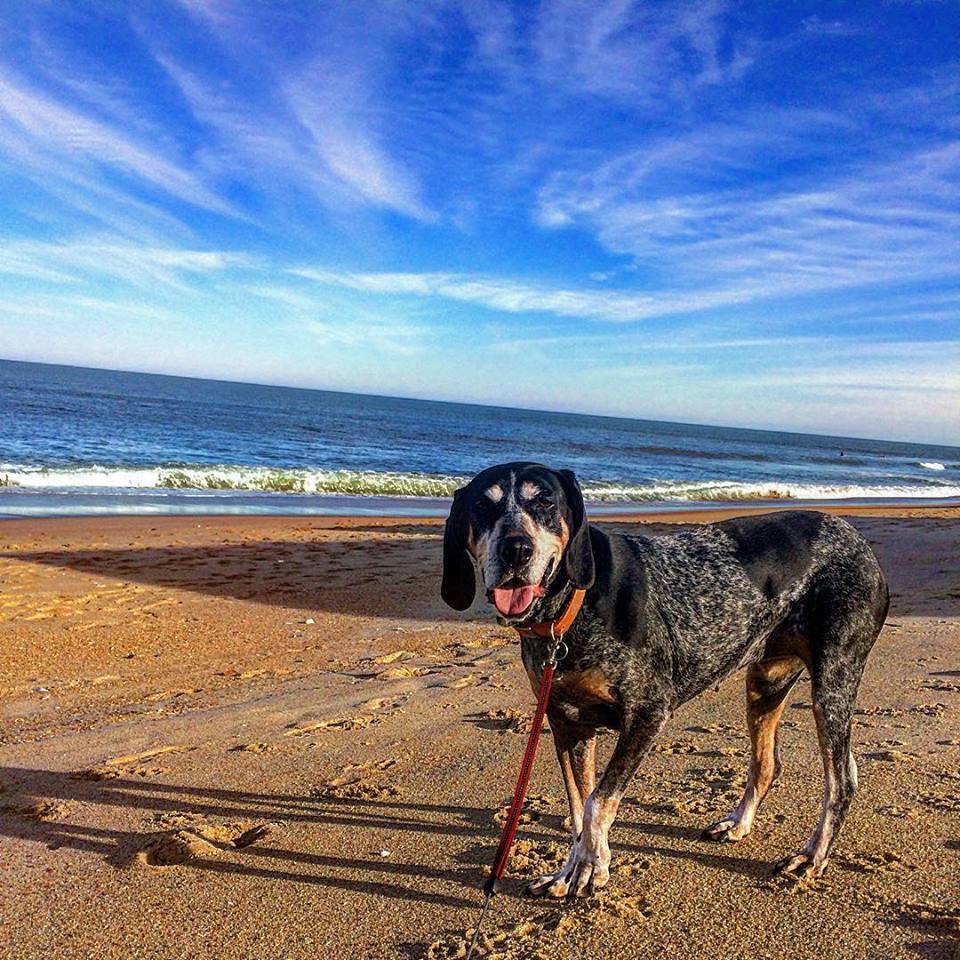 (Chris's Blue Tick Coonhound 'Sprite' Kitty Hawk NC. Photo Chris Keyser)
The Outer Banks Welcomes you and your dog to the beach.
The OBX Towns' and the Cape Hatteras National Seashore each have their own guidelines pertaining to dogs on the beach. Foremost clean up after your dog. It is important to verify that none of these ordinances have changed so be informed. We look forward to meeting your dog.
Duck:
Dogs may play unleashed but must be under the watchful eye of a guardian.
Southern Shores:
Dogs are allowed on the beach before 9 a.m. and after 6 p.m. from May 15 – September 15. Year-round leash law.
Kitty Hawk:
Dogs are allowed on beach from the Friday before Memorial Day until the day after Labor Day between the hours of 10 a.m. and 6 p.m., dogs must be on a leash not exceeding 12 feet. Dogs may be taken off the leash only if they will not disturb other people on the beach and must be controlled by the handler, who must remain within 30 feet of the dog at all times.
Kill Devil Hills:
Between Memorial Day and Labor Day of each year, no dogs shall be permitted on the public beach between the hours of 9:00 a.m. and 6:00 p.m. unless being used to aid a handicapped person. At all other times, no dogs shall be permitted on the public beaches except upon a leash and under the control of owner or handler.
Nags Head:
Dogs are allowed on the beach year-round as long as they are restrained by a least not exceeding 10 feet. townofnagshead.net
Cape Hatteras National Seashore:
Dogs are allowed on the beach year-round if they are restrained with a leash 6 feet or less at all times. nps.gov
Safe Pet Vacation Kits
The Dare County SPCA has provided "Safe Pet Vacation Kits" to all town halls. It includes information on what to do if you are separated from your pet while on vacation. There is a temporary dog tag and lots of helpful information and contact numbers. obxspca.org