Though winter is around the corner does not mean you can forget about your air conditioning needs. Even an older A/C unit that still works may need to be replaced simply because of how inefficiently it is running.
Before you shell out for a new central air system, it may want to look at other options! I am excited to share with you five reasons to switch to a ductless mini-split system.
So What Is Ductless Mini-Split System?
These units functions like typical whole house units without the duct work. So the cold air is delivered right into the room. This means the air does not have to travel through ducts, where the temperature fluctuates before getting to the desired room.
These systems are very popular in the Caribbean, Asia and especially where small living spaces are the normal. They are slowly catching on in the U.S. as an option to use for heating and cooling air systems.
(Three head units on display at D Air Condition)
Five Reasons to Own a Ductless System!
1. You can afford to condition spaces that you want to add to your living space. Mini-splits are inexpensive to acquire and are easy to instal. Garages, Workshops, and the extra area under you beach box can be properly cooled and heated. These units are small and are not invasive to your interior.
2. Every room in your home can have it own climate zone. The output stations are essentially its own zone and have their own thermostat so each room can be set to the temperature you desire. Saving money on cooling/heating the rooms you use most.
3. Save Money and use less energy. These two points go hand-in-hand. Once again not having to push large amount of air through duct work requiring a large fan, leaking ductwork and losing the temperature from the source costs more!
4. Making our homes smarter is new trend. Smart homes are the new trend and ductless mini-spilts are often come with WiFi controls without the need of extra equipment. The smart thermostats are built in so no need for buying devices for each room/zone.
5. We all love reliable. Mini-Splits have few moving parts and no ductwork. They are easy to maintain and little maintenance and rarely suffer significant breakdowns.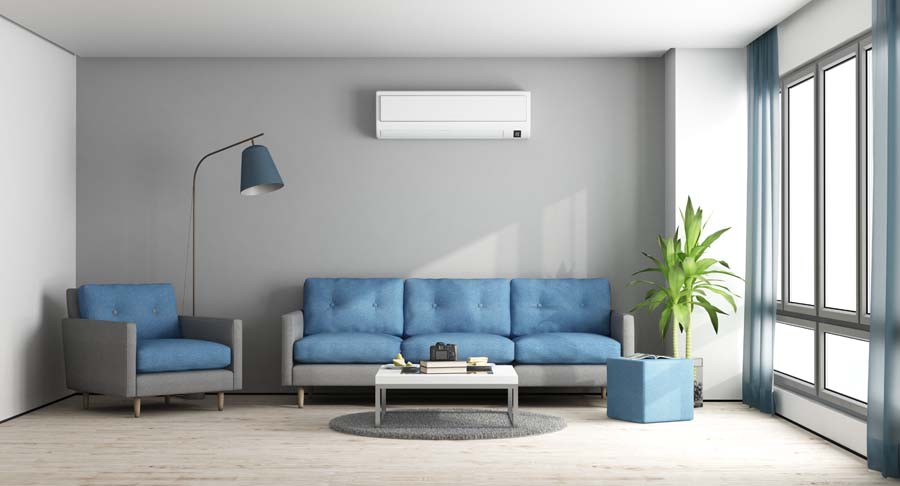 (Sleek unit in this living space. Photo credit: Bowman Heating & Air)
Ready to make a switch?
A ductless mini-split may be the right answer for your additional square footage or your whole house. Contact me for local vendors that install these unit and will keep money in your pocket during the hot summer days ahead.